Arrival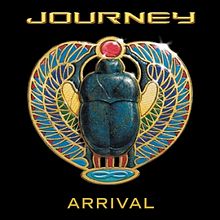 Journey
Arrival is Journey's eleventh studio album and the first to include singer Steve Augeri and drummer Deen Castronovo as well as being the last album they released under Columbia Records. It was preceded by Trial By Fire and followed by Generations.
Track Listing
Edit
"Higher Place"
"All the Way"
"Signs of Life"
"All the Things"
"Loved By You"
"Livin' to Do"
"World Gone Wild"
"I Got a Reason"
"With Your Love"
"Lifetime of Dreams"
"Live and Breathe"
"Nothin' Comes Close"
"To Be Alive Again"
"Kiss Me Softly"
"We Will Meet Again"
Personnel
Edit