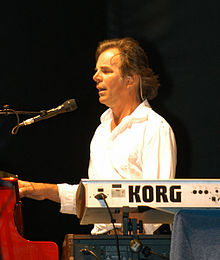 At the age of eight Cain began accordion lessons, and by the time he was in his teens he was playing accordion and piano at parties and in clubs. He also plays guitar, bass and harmonica. Cain attended East Leyden High School in Franklin Park, Illinois. He later attended the Chicago Conservatory of Music before moving to Nashville, Tennessee for a time and then eventually to Los Angeles, California.

In 1976, Cain released his first record as the Jonathan Cain Band, Windy City Breakdown, on Bearsville Records. In 1979, he joined The Babys, appearing on their albums Union Jacks and On the Edge. In 1980 Cain left The Babys to join the rock band Journey, taking Gregg Rolie's place on keyboards. Cain aided Journey's rise to the top of the charts with his first collaborations on the album Escape, composing and playing the piano on songs such as "Don't Stop Believin'", described by Allmusic as "one of the best opening keyboard riffs in rock Perhaps his most notable contribution was as sole author of the classic Journey ballad "Faithfully", a song about life on the road while in a band. Cain would go on to appear on at least 13 other Journey albums and compilations. When singer Steve Perry left Journey in 1987, all of the band's members went their separate ways. Cain would reunite with former Babys bandmates John Waite]] and Ricky Phillips, fellow Journey bandmate Neal Schon, and future Journey drummer Deen Castronovo to form the band Bad English. The band released two albums before disbanding in the early 1990s.
In 1996, the Journey lineup from the album Escape was reunited. They reformed and recorded the album Trial by Fire. Steve Perry then left the band again in 1998, after suffering a hip injury while hiking in Hawaii that required surgery. Journey has continued on with three subsequent lead singers Steve Augeri from 1998 to 2006, Jeff Scott Soto from 2006 to 2007, and current frontman Arnel Pineda from 2007 to present. Cain remains a primary contributor with the band and is still recording and touring through 2010.
In addition to his notable work with Journey, Cain has released eight solo albums and contributed to solo albums by fellow Journey member Neal Schon.
Discography
Edit
With The Jonathan Cain Band
Edit
With The Babys
Edit
With Journey
Edit
With Bad English
Edit
Guest Appearances
Edit
Sammy Hagar - Three Lock Box (1982)